The News -
Science-Astronomy
July 29, 2015
Trains will be disrupted, power will go out, satellite signals will go wonky – that's what we have to look forward to when the sun next has a melt down, and we're unlikely to get more than 12 hours warning.
In a new government document, the Department of Business, Innovation and Skills has laid out its Space Weather Preparedness Strategy, outlining the risks of unsettled space weather as well as what it plans to do about them.
The document explains that the worst case scenario is a 'coronal mass ejection' – huge eruptions on the sun which cause parts of its corona to detach. The corona is the pearly glow around the sun that you can only usually see during a total solar eclipse, made up of plasma and rarefied gases.
The worst case scenario is based on the Carrington event of 1859, which caused solar-flare related x-rays and radiation storms. In 2015, a similar event could cause the national grid to fail, satellite operations to shut down, increased radiation on flights and upset to electronic systems.
The report suggests that there are three things the country needs to do to prepare for such an event: improve alerts and warnings, update power and communication infrastructure with failsafe backups and have a plan in place to deal with the effects should they come to pass.
As for you: the advice from the government is to prepare yourself for a solar event just as you would for any other natural hazards like floods and storms.
The News -
Natural Disasters
July 22, 2015
The fault that produced a 4.0-magnitude earthquake in Fremont early Tuesday morning is expected to produce a major earthquake "any day now" and Bay Area residents should be prepared, a U.S. Geological Survey scientist said.
The 2:41 a.m. earthquake on the border of Fremont and Union City occurred on the Hayward Fault at a depth of 5 miles. The epicenter was at a spot just north of the intersection of Niles Canyon Road and Mission Boulevard.
The quake caused some BART delays early Tuesday while work crews checked the tracks, but appears to have caused no major damage. At least 13 smaller quakes or aftershocks had been reported near the same location as of 6:42 a.m., the largest of which was a 2.7-magnitude at 2:56 a.m.
The News -
War-Draft
July 17, 2015
Expert warns advances in AI mirrors research that led to nuclear weapons
He says AI systems could have objectives misaligned with human values
Companies and the military could allow this to get a technological edge
He urges the AI community to put human values at the centre of their work
Artificial intelligence has the potential to be as dangerous to mankind as nuclear weapons, a leading pioneer of the technology has claimed.
Professor Stuart Russell, a computer scientist who has lead research on artificial intelligence, fears humanity might be 'driving off a cliff' with the rapid development of AI.
He fears the technology could too easily be exploited for use by the military in weapons, putting them under the control of AI systems.
He points towards the rapid development in AI capabilities by companies such as Boston Dynamics, which was recently acquired by Google, to develop autonomous robots for use by the military.
The News -
Natural Disasters
July 15, 2015
It has been 117 months since a major hurricane, defined as a Category 3 or above, has made landfall in the continental United States, according to 2015 data from the Hurricane Research Division of the National Oceanic and Atmospheric Administration (NOAA).
This is the longest span of time in which no major hurricane has struck the mainland U.S. in NOAA hurricane records going back to 1851.
The second longest time between major hurricane strikes was the eight years between 1860 and 1869—146 years ago.
A recent study published May 5 and co-authored by Tim Hall of the National Aeronautics and Space Administration's (NASA) Goddard Institute for Space Studies entitled The Frequency and Duration of U.S. Hurricane Droughts also confirmed that the current "admittedly unusual" drought is "unprecedented in the historical record."
That study found that major hurricane droughts only occur every 177 years, and calculated that there is less than a 5 percent chance (0.39%) that the current drought will end this hurricane season, which lasts from June 1 to November 30.
The News -
Natural Disasters
July 14, 2015
When the 2011 earthquake and tsunami struck Tohoku, Japan, Chris Goldfinger was two hundred miles away, in the city of Kashiwa, at an international meeting on seismology. As the shaking started, everyone in the room began to laugh. Earthquakes are common in Japan—that one was the third of the week—and the participants were, after all, at a seismology conference. Then everyone in the room checked the time.
Seismologists know that how long an earthquake lasts is a decent proxy for its magnitude. The 1989 earthquake in Loma Prieta, California, which killed sixty-three people and caused six billion dollars' worth of damage, lasted about fifteen seconds and had a magnitude of 6.9. A thirty-second earthquake generally has a magnitude in the mid-sevens. A minute-long quake is in the high sevens, a two-minute quake has entered the eights, and a three-minute quake is in the high eights. By four minutes, an earthquake has hit magnitude 9.0.
When Goldfinger looked at his watch, it was quarter to three. The conference was wrapping up for the day. He was thinking about sushi. The speaker at the lectern was wondering if he should carry on with his talk. The earthquake was not particularly strong. Then it ticked past the sixty-second mark, making it longer than the others that week. The shaking intensified. The seats in the conference room were small plastic desks with wheels. Goldfinger, who is tall and solidly built, thought, No way am I crouching under one of those for cover. At a minute and a half, everyone in the room got up and went outside.
The News -
Natural Disasters
June 30, 2015
A huge fault in the Earth's crust near Los Angeles is leaking helium, researchers have found
A huge fault in the Earth's crust near Los Angeles is leaking helium, researchers have found.
They say the unexpected find sheds new light on the Newport-Inglewood Fault Zone in the Los Angeles Basin.
It reveals the fault is far deeper than previously thought, and a quake would be far more devastating.
It follows a report from the U.S. Geological Survey has warned the risk of 'the big one' hitting California has increased dramatically.
UC Santa Barbara geologist Jim Boles found evidence of helium leakage from the Earth's mantle along a 30-mile stretch of the Newport-Inglewood Fault Zone in the Los Angeles Basin.
He claims the results show that the Newport-Inglewood fault is deeper than scientists previously thought.
The News -
Disaster Preparedness
June 24, 2015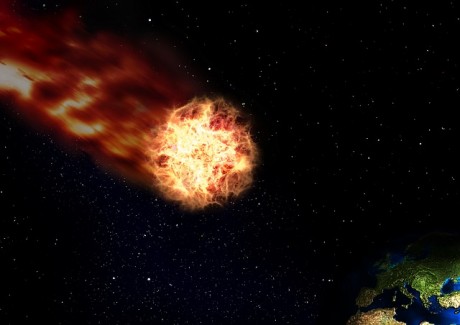 , I know that headline sounds like it comes from the 1998 movie "Armageddon" starting Bruce Willis, but this is actually happening. NASA and the National Nuclear Security Administration are teaming up to try to figure out a way to use nuclear weapons to either destroy threatening asteroids or to at least nudge them off course. This seems very odd considering the fact that just a couple of weeks ago NASA publicly announced that it knew of "no asteroid or comet currently on a collision course with Earth" and that "no large object is likely to strike the Earth any time in the next several hundred years". If what NASA told us previously is true, than it would seem that it would be a tremendous waste of time, money and resources to work on a way to destroy asteroids using nuclear weapons. Why is NASA suddenly so interested in the threat of large asteroids if one is not likely to hit us "any time in the next several hundred years"? Could it be possible that they know something that they are not telling us?
When I first heard that NASA was teaming up with the National Nuclear Security Administration to figure out a way to use nuclear weapons against asteroids, I immediately had flashbacks to two of my favorite movies from the 1990s – Deep Impact and Armageddon. But it disturbs me that our "best minds" haven't come up with any better ideas since those films first came out. The following is from a New York Times article about this new development… READ MORE
The News -
Science-Astronomy
June 18, 2015
Eminent Australian scientist Professor Frank Fenner, who helped to wipe out smallpox, predicts humans will probably be extinct within 100 years, because of overpopulation, environmental destruction and climate change.

Fenner, who is emeritus professor of microbiology at the Australian National University (ANU) in Canberra, said homo sapiens will not be able to survive the population explosion and "unbridled consumption," and will become extinct, perhaps within a century, along with many other species. United Nations official figures from last year estimate the human population is 6.8 billion, and is predicted to pass seven billion next year.

Fenner told The Australian he tries not to express his pessimism because people are trying to do something, but keep putting it off. He said he believes the situation is irreversible, and it is too late because the effects we have had on Earth since industrialization (a period now known to scientists unofficially as the Anthropocene) rivals any effects of ice ages or comet impacts.
The News -
Disaster Preparedness
June 17, 2015
Over the last couple of years, the world's wealthiest have been rushing to buy doomsday bunkers, panic rooms and futuristic state-of-the-art security systems. Do they know something we don't? What exactly are they preparing for?
The world's wealthiest have grown increasingly interested in survival bunkers, and over the past few years have poured mega amounts of money into retrofitting their homes with over the top home security systems. In fact, these people are taking preparedness to a whole new level.
From secret passage ways built into their homes to multi-million dollar underground bunkers, wealthy people from around the world are transforming their homes into luxurious fortresses, built to withstand every kind of disaster and/or attacker. They are shelling out millions of dollars to protect themselves from disasters and the public.
Companies like Creative Home Engineering are building high-tech passageways and hidden doorways that lead to elaborate panic rooms or underground bunkers. And companies like American Saferoom Door Company are building bulletproof doors with electromagnetic locks that sell for over $20,000 a piece.
The News -
Science-Astronomy
June 16, 2015
Asteroid Icarus, the kilometre-long spacerock named after the Greek mythological character that flew too close to the sun, will skim past the Earth on Tuesday night making a rare "distant pass" of five million miles.
The News -
Natural Disasters
June 10, 2015
An Indonesian volcano near an ancient volcano that once nearly destroyed humankind is getting ready to erupt. At the moment, it's throwing smoke high into the sky.
Sinabung volcano in Northern Sumatra, Indonesia, is only 35 kilometers from the Toba volcano whose super-eruption, according to scientists, put mankind on the brink of extinction almost 70,000 years ago by causing a "nuclear winter," which could have lasted several years
The News -
Science-Astronomy
June 10, 2015
Internet buzz about a giant meteor that is going to strike our planet in September has become so intense that NASA has been forced to issue a statement publicly denying that it is going to happen. NASA insists that the agency knows of "no asteroid or comet currently on a collision course with Earth", and that "no large object is likely to strike the Earth any time in the next several hundred years". To be honest, NASA should perhaps hold off on making such bold statements concerning what will happen in the future considering the fact that the Chelyabinsk meteor that exploded over Russia in 2013 took them totally by surprise. In any event, what we do know is that our region of space is absolutely packed with meteors and asteroids. At this point, approximately 10,000 major near earth objects have been discovered by scientists, and about 10 percent of them are one kilometer or larger in size. If any of those big ones were to hit us, we would be looking at another Tunguska event or worse. Very large meteors have struck our planet before, and they will hit us again. It is only a matter of time.
But of most immediate concern to lots of people out there are the various theories that are floating around about September. The following is an excerpt from an article that appeared in a British news source just this week…
The News -
Disaster Preparedness
June 06, 2015
Armageddon Online proudly presents... Nearly 3000 survival books, manuals, guides and more in one place! Topics include: - Natural Disaster Survival, Food and Water Prep - Navigation - General Urban and Wilderness Preparedness - Gun Manuals - Evasion Techniques - and much more!
The News -
Disaster Preparedness
June 06, 2015
This is a list of the top 10 recommended disaster preparedness and survival books, as compiled by Armageddon Online. They aren't in any particular ranked order, but every one of them has been recommended by members, mentioned in numerous site reviews, and a few have actually been read by me! They cover information that everyone SHOULD know, but many people choose to ignore or dismiss. If & when a disaster does happen, these book will do their best to get you, your friends, and your family ready!
The News -
Natural Disasters
June 04, 2015
The global health system is unable to handle another mass epidemic like the Ebola outbreak in West Africa, Médecins Sans Frontières said, urging wealthy nations to develop coordinated response plans and drugs to fight neglected diseases.

Late and slow international response, the absence of solid leadership as well as the lack of treatments and vaccines are a recurrent scenario in many of today's health emergencies and are not unique to the Ebola epidemic, the medical charity said.

"If a global pandemic were to strike tomorrow, there is still no well-resourced, coordinated international response in place to kick in," Joanne Liu, the international president of Médecins Sans Frontières (MSF), said in a statement on Wednesday.
The News -
War-Draft
May 28, 2015
Killer robots which are being developed by the US military 'will leave humans utterly defenceless', an academic has warned.
Two programmes commissioned by the US Defense Advanced Research Projects Agency (DARPA) are seeking to create drones which can track and kill targets even when out of contact with their handlers.
Writing in the journal Nature, Stuart Russell, Professor of Computer Science at the University of California, Berkley, said the research could breach the Geneva Convention and leave humanity in the hands of amoral machines.
"Autonomous weapons systems select and engage targets without human intervention; they become lethal when those targets include humans," he said.
"Existing AI and robotics components can provide physical platforms, perception, motor control, navigation, mapping, tactical decision-making and long-term planning. They just need to be combined.
"In my view, the overriding concern should be the probable endpoint of this technological trajectory.
"Despite the limits imposed by physics, one can expect platforms deployed in the millions, the agility and lethality of which will leave humans utterly defenceless. This is not a desirable future."
The News -
Natural Disasters
May 28, 2015
At Horseshoe Bend in Parker County, residents hope luck isn't running out. The community of several hundred trailers and RVs sits on the banks of the swollen Brazos River.

County Judge Mark Riley ordered Horseshoe Bend be evacuated by 8 p.m. CT Wednesday, along with other low-lying neighborhoods. Officials cannot force residents to leave, but Riley said the river could rise another nine feet by the time it crests.

"Water could be up to the top of the carport," said David Cantu, as he hitched up his RV to haul it to higher ground. "All these structures could be gone."' FULL ARTICLE

The News -
Religion
April 01, 2015
Get ready to feast your eyes on an extra special and rare total lunar eclipse Saturday morning that has some Christians worried this Easter weekend.
For the third time in less than a year, the moon will dip into Earth's shadow, turning its bright white globe a coppery red in a matter of minutes.
The total phase of the lunar eclipse will only last about 5 minutes, making it the shortest lunar eclipse of the century.
The action begins at 3:16 a.m. PST on the morning of April 4 when the edge of the moon first enters the amber core of Earth's shadow.
For the next hour and 45 minutes, Earth's shadow will move across the lunar disk, ultimately covering the entire moon at 4:58 a.m. PST.
Some total eclipses last for more than an hour, in this case, totality spans just 4 minutes and 43 seconds since the moon will be skimming the outskirts of the Earth's shadow, rather than passing centrally through it.
The moon's red tint is caused by the Earth covering the sun. This red light from the rim of the Earth then beams onto moon, transforming it into a giant red orb.
Lunar eclipses usually come in no particular order, but sometimes the sequence is more orderly. When four lunar eclipses are all total, the series is called a tetrad.
This Saturday will be the third of four total eclipses in the 18-month long tetrad series. Previous eclipses occurred on April 15, 2014 and. Oct. 8, 2014. After Saturday, the next one is expected on Sept. 28, 2015. Such a closely-spaced succession of eclipses is a fairly rare occurrence.
Some Christians believe the blood moon lunar eclipse tetrad could be connected to Jesus' return — or signify a world-changing event about to take place.
According to the King James Bible, "The sun shall be turned into darkness, and the moon into blood, before the great and the terrible day of the Lord comes," (Joel 2:31).
Regardless of your religious belief, it will be a breathtaking spectacle you'll want to wake up early for. Just make sure to be outside no later than 4:58 a.m. PST to watch the transition.
The News -
Science-Astronomy
March 18, 2015
Using data on "exoplanets" from Nasa's Kepler telescope, scientists calculate how many stars in Milky Way could have planets in zones where liquid water could exist
The Milky Way galaxy may be home to billions of planets orbiting their host stars in a "habitable zone" where life could theoretically exist, researchers said Wednesday.
NASA's Kepler space telescope, launched in 2009 to search for so-called "exoplanets" outside our own solar system, has already found thousands – many of them in systems like our own with multiple planets orbiting a star.
Using this data, researchers from the Australian National University and the Niels Bohr Institute in Copenhagen attempted to calculate how many stars in the Milky Way could have planets in their habitable zones where liquid water could exist – the prerequisite for life whether primitive or complex.
"The calculations show that billions of the stars in the Milky Way will have one to three planets in the habitable zone, where there is the potential for liquid water and where life could exist," said a statement from the Niels Bohr Institute.
<< Start
< Prev
1
2
3
4
5
6
7
8
9
10
Next >
End >>
Results 1 - 39 of 3788