Disaster Preparedness
News and articles focusing on disaster preparedness, survival, and readiness! See : Home Emergency Kit.


Disaster Preparedness
February 24, 2015
Armageddon Online proudly presents... Nearly 3000 survival books, manuals, guides and more in one place! Topics include: - Natural Disaster Survival, Food and Water Prep - Navigation - General Urban and Wilderness Preparedness - Gun Manuals - Evasion Techniques - and much more! Opening the files requires ADOBE READER or a web browser with it built in. All of the following files are free to read and download individually. If you would like access to all 3000 files at once (to download) - please consider a donation to help with bandwidth! Questions or comments : contact me here. The full downloads are .RAR and .ZIP format and quite large in size. Please be familiar with those formats and .PDF files before any further action!

---
---
Preparedness


General

Chemical


Earthquake

EMP

Terrorism

Survival Books

Wilderness & Outdoor Survival

Shelter

Medical, Health, Hygiene & First Aid

Fire, Heat, & Cooking

Recipe Books

Gardening Books

Construction Manuals & Building Plans

General Survival PT. 1

General Surviuval PT. 2

Fire - Heat - Canning - Cooking

ALL/MIX - Nuculear - Biological - Chemical - Warfare - Terrorism





Tornado

Tsunami


Volcano

Winter Storms


Thunderstorm


Fire and Heat Waves

Hurricane


Biological


Nuclear Survival

MISC SELF DEFENSE

Communications

Fuel & Alternative Energy

Water

Food : Procuring, Storage & Preserving

Animals & Livestock

Skills

Emergency Services

More Hunting - Camping - Fishing


More NAVIGATION

Gardening - Faming - Food - Hunting

Smuggling - Caching

More Medical - Hygiene - Health - Sanitation

MISC BOOKS

MISC SKILLS

MIX - SHELTERS - BUNKERS - POWER




Disaster Preparedness
February 13, 2015
What are the chances of all human life being destroyed by a supervolcano? Or taken over by robots? A new report from Oxford university assesses the risks of apocalypse
ince the dawn of civilisation people have speculated about apocalyptic bangs and whimpers that could wipe us out. Now a team from Oxford university's Future of Humanity Institute and the Global Challenges Foundation has come up with the first serious scientific assessment of the gravest risks we face.
Although civilisation has ended many times in popular fiction, the issue has been almost entirely ignored by governments. "We were surprised to find that no one else had compiled a list of global risks with impacts that, for all practical purposes, can be called infinite," says co-author Dennis Pamlin of the Global Challenges Foundation. "We don't want to be accused of scaremongering but we want to get policy makers talking." (SOURCE)
Disaster Preparedness
February 13, 2015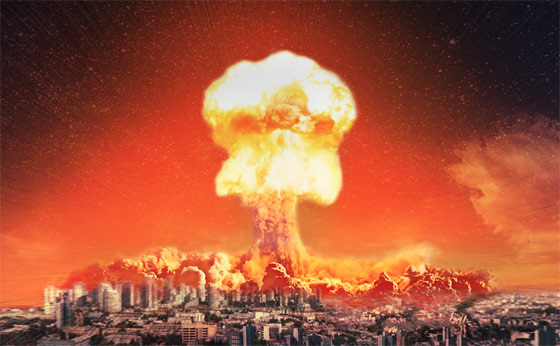 Whether you think you're prepared or not, if it hit the fan – right now – what would you do?
I'm mostly curious to hear what you have to say, but here are a few of my thoughts —


If 'it' happened right at this moment, the things that I would do next are relative to where I am at the moment, coupled with whatever 'it' is.
For this hypothetical question, lets just presume that 'it' is pretty bad, and will probably be long lasting while the effects will be variable – some regions worse than others – but much worse in the cities and MSA's (Metropolitan Statistical Areas).

Even for those who have diligently prepared for disaster, sometimes there is a feeling that there just isn't enough in one's food and supply inventory yet… There also may be the feeling that there is still a lack of adequate self-sufficiency / self-reliance skills to assist in the endeavor to 'stay alive' long term without the systemic infrastructure which brings us our modern life-sustaining food and supplies.
That said, if the SHTF right now, it will probably mostly be too late to accomplish fulfilling much of any deficit.
I ask you to seriously contemplate this question (of what would you do 'right now') because the answers to that question (and there will be many) will probably identify some areas where you are still lacking.
These are the things that you should take care of today, so that 'if' the SHTF for real, you won't be too late.
Disaster Preparedness
January 04, 2015
"What we have here are a collection of random acts of preparedness"
The U.S. moved quickly to stem the Ebola virus from taking on massive proportions, but experts say the threat was a wake up call.
Dr. Irwin Redlener, director of Columbia University's National Center for Disaster Preparedness, said the U.S. needs a central authority and coordination among a constellation of federal, state and local agencies.
"What we have here are a collection of random acts of preparedness," Redlener told The Boston Globe. "Again, we're laser-focused on what happened yesterday."
Redlener said the appointment of federal Ebola czar Ronald Klain was an important step that enabled the U.S. to fight the virus, still considered a major global threat.
Despite the widespread news of Ebola's outbreak and the apparent fright triggered by its rapid spread, Ebola is relatively easy to contain compared to some other unknown viruses, experts indicated.
Thomas Eric Duncan was misdiagnosed in a Dallas hospital and infected two nurses with the virus. His fiancee and those who lived with him never caught Ebola. People with the disease are noticeably ill and can be isolated.
But if Duncan had been carrying a new type of flu or a bug, the lack of an organized U.S. health response system could have been deadly.
And relying on the good will and untested competence of private hospitals is not a strategy that enables consistency. Different hospitals respond differently to health emergencies.
The costs for new protective garb needed to combat Ebola emerged just as suddenly as the virus itself, also.
Disaster Preparedness
December 22, 2014
From the outside America may seem to be a land of endless optimism and confidence. But could it be in danger of falling apart?
An increasing number of Americans seem to think so, and they're preparing for the end.
They call themselves preppers. Mainstream suburban Americans hoarding supplies and weapons while leading otherwise perfectly normal lives.
Disaster Preparedness
November 18, 2014
The following survival and preparedness eBooks are FREE on AMAZON -- and likely only for a LIMITED TIME. Add them to your collection before it's too late! :)
Do you know what to put in a survival bag? Or in your shelter or pantry? Who knows what could happen at any time, we see a lot of natural disasters and epidemics going on right now on our planet. Wouldn't it be wise to get the decent preparations in case a crisis declares itself near your home and family? Do you have any idea how to stay focus in a crisis situation? To have the mental toughness and react quickly to anything? Prevention is the key and this Box Set is THE Reference to get the best preppers!

What you'll learn in these books..

The types of Survival Bags
Basics content you need
The Ultimate 3-tiered Survival Bag
Debunking Survival Myths
What to do to keep your bag A1
What kind of food you should have
How to prepper the food
Essential tools to have with you
How to react quickly to a catastrophe
The things to know to be really prepared
Danger, what's the best way to React
How to stay Focus and Conscious
Out-of-body rationalism
What are the important factors to consider
Ultimate Mental Toughness Goals
And much, much more!

Would you be mentally ready for a disaster? It's nice to be prepared with the best shelter you can have, filled with foods, water and lots of supplies. Multiple bags for any kind of situation you, your family or your friends could face. In fact, that's not enough... Do you know how to have the the mental toughness for any situation? You will know how to focus and have outstanding automatic responses to anything that could happen around you. This personal guide will give you great insights on what to train for you to become a total champion in the field. Get ready to learn very Epic lessons! Here's what you'll learn in this book...

Danger, the best way to React to it
How to stay Focus and Conscious
Out-of-body rationalism
Most Important factors to consider
Ultimate Mental Toughness Goals
And much, much more!

Do you know which medical supplies you're really going to need? Have you collected items on the suggested lists, but still wonder if they're the right ones? Crafting the perfect kit can be challenging, but being the clever prepper you are, you know there must be a way of focusing on what's essential. Turns out there is – and we've found it! We've conducted interviews and unearthed archived medical records of our allies across the pond. Documents detailing health histories of those caught in the Battle of Britain. We call these brave souls "The Original Preppers of WWII." And we'd like to share with you what we've learned. By studying their problems, we can better predict and prepare for our own. Our findings were often surprising. The health conditions we predicted, and the ones that actually plagued them, were often quite different. We'd like to show you what we've learned from history. We'd like to tell you exactly what you are going to need and why!
This guide is intended to provide you with the essential information to make your first small jars in a safe and enjoyable way. It will guide you through all stages from preparation to storage of your products. You will discover the principles of conservation for different types of food, the benefits of home canning, the recommended methods as well as the ones to avoid. Then you will learn the two proper methods of treatment: the boiling water bath and the pressure canning methods. You will find a list of essential equipment and the detailed steps for a successful canning experience. Finally you will gain some hands on experience with our easy and delicious recipes. This guide do not claim to be scientific or complete. We simply wants to give you the tools you need to get into the fun activity of preparing your home preserves.
Urban gardening aka. modern day gardening - just because you don't have a huge backyard it doesn't mean you can't enjoy the luxury of a beautiful garden. Allow me to get you started building your own urban garden in your apartment, on your balcony, in your small yard or even on a roof.

A Look Into What Urban Gardening Gardening Actually Is

Benefits Of Urban Gardening

Things Required To Build Your Own urban Garden

How To Design Your Very Own Urban Garden

How To Correctly Prepare Your Soil **A MUST READ**

How To Select Suitable Plants For Your New Urban Garden

Maintaining Your Urban Garden Correctly

Common Pests & Diseases Explained, Along With How To Conquer Them

Issues Urban Gardeners Run Into And How To Fix Them
Disaster Preparedness
May 08, 2014
If the Yellowstone supervolcano erupts then millions of U.S. citizens could end up in Brazil, Australia, or Argentina.
That's according to the South African news website Praag, which said that the African National Congress was offered $10 billion a year for 10 years if it would build temporary housing for Americans in case of an eruption.
The potential eruption of the supervolcano, one of the biggest in the world, has been a hot topic ever since videos of animals allegedly fleeing the area before an earthquake were posted online. Although the veracity of the claims haven't been backed up, dozens of bloggers and others have been trying to figure out what, if anything, is going on.
Disaster Preparedness
February 16, 2014
This is a list of the top 10 recommended disaster preparedness and survival books, as compiled by Armageddon Online. They cover information that everyone SHOULD know, but many people choose to ignore or dismiss. If & when a disaster does happen, these book will do their best to get you, your friends, and your family ready!
Disaster Preparedness
January 21, 2014
It's not too difficult to understand that we are well on our way to a paradigm shift in America; in fact we're in the midst of it right now. The writing is on the wall and can no longer be ignored.
The US government has run up trillions of dollars in debt, and given the recent debates over the country's debt ceiling, we can rest assured that neither Congress or the President will act to curtail spending and balance the budget. We will continue adding trillions of dollars to the national debt clock until such time that our creditors no longer lend us money.
From the monetary side, the Federal Reserve's response to this unprecedented crisis has been to simply "print" more money as is necessary. On top of the trillions in dollars already printed thus far, the Fed continues quantitative easing to the tune of about $80 billion per month. It's the only arrow left in the Fed's quiver, because failing to inject these billions into stock markets and banks will lead to an almost instant collapse of the U.S. financial system. Unfortunately, the current strategy is chock full of its own pitfalls, the least of which being the real possibility of a hyperinflationary environment developing over coming months and years. [SHTFPLAN ]
Disaster Preparedness
December 11, 2013
The system builds on a dense network of GPS receivers in the western US, initially installed to track changes in stress along the region's earthquake faults. By adding inexpensive temperature, air-pressure, and motion sensors common in today's smart phones, researchers have found that the system can arm forecasters and emergency managers with important information earlier and more frequently than existing techniques.

These same sensors can be installed in buildings, bridges, and other critical pieces of infrastructure to quickly help assess damage after a large earthquake, notes the team, led by Yehuda Bock, a researcher at the Scripps Institution of Oceanography in La Jolla, Calif.
Disaster Preparedness
November 28, 2013
Paranoid? Perhaps. But also increasingly commonplace. Futuristic security technologies–many developed for the military but sounding as though they came straight from James Bond's Q–have made their way into the home, available to deep-pocketed owners whose peace of mind comes from knowing that their sensors can detect and adjust for, say, a person lurking in the bushes a half-mile away.
Disaster Preparedness
November 15, 2013
At the center of every prepper is a great planner. Prepping is built around the idea of planning for unforeseen events to be ready when they come. But what if you plan for the wrong disaster and something you didn't even see coming happens? You could be planning for a bank shutdown and an economic collapse, but instead a random solar flare knocks out all electronics and power.
Planning is great, and with a little help and foresight, you can learn how to plan for a disaster scenario and survive if you're wrong. [SURVIVALBASED]
Disaster Preparedness
November 15, 2013
At the center of every prepper is a great planner. Prepping is built around the idea of planning for unforeseen events to be ready when they come. But what if you plan for the wrong disaster and something you didn't even see coming happens? You could be planning for a bank shutdown and an economic collapse, but instead a random solar flare knocks out all electronics and power.
Planning is great, and with a little help and foresight, you can learn how to plan for a disaster scenario and survive if you're wrong. [SURVIVALBASED]
Disaster Preparedness
November 06, 2013
***The free download through Amazon.com is only available for a short time, so if it is back to full price when you check, you are too late!***

Well, are you? If you are, pat yourself on the back. You're a step ahead of most people. The average citizen turns a blind eye to disaster preparedness and is largely unprepared to handle all but the most minor of emergency situations.
Disaster Preparedness
November 04, 2013
(Disclaimer: Free as of the date and time of this post. These offers normally have a limited time span, so get yours while you can)
The Healthy Prepper
The Healthy Prepper book reveals the preparedness secrets for thriving instead of just surviving and how you and your pets can be prepared for any situation in a healthy way. Information in this book is not like anything you've heard before in ANY prepper book!
Disaster Preparedness
October 31, 2013
The trauma following natural disasters can be long-lasting and devastating. At the very least, many people feel insecure and unable to return to normalcy. However, certain exercises can boost one's mental preparedness, which makes it possible to cope with challenges that might arise after occurrences like natural disasters, the death of a loved one, terrorist attacks and other traumatic experiences. The rate at which people adapt to such incidences varies, so it's important to know some strategies now, strengthen your mental resilience in the future. Read on to learn about some of the most effective mental exercises to help you bounce back.
Disaster Preparedness
October 22, 2013
Emergency experts say a learned helplessness has left Australians in major cities unprepared to cope in natural disasters. With the increasing impact of extreme heatwaves, storms, fires and floods, experts say traditional reliance on emergency services and recovery support such as cash handouts needs to be urgently reviewed if Australia is to better survive both the effects and escalating costs of such disasters.

Emergency expert Lewis Winter from Charles Sturt University says Australians need to prepare themselves for a situation where emergency services are unable to help them. "What people have got to know is that they're on their own, literally on their own," he said.
<< Start
< Prev
1
2
3
4
5
6
7
8
9
10
Next >
End >>
Results 1 - 27 of 303