As many as 4,000 people are believed trapped by landslides in a narrow valley near a Hindu shrine in the Indian Himalayas, days after floods killed more than 100 people.

Helicopters have ferried rescue workers and doctors along with equipment, food and medicine to Kedarnath in the state of Uttrakhand, the nearest town. Most of those stranded are Hindu pilgrims who were visiting four revered shrines. Amit Chandola, a state spokesman, said authorities had so far been unable to reach eight villages feared washed away by the weekend floods in the worst-hit districts of Rudraprayag and Chamoli.

.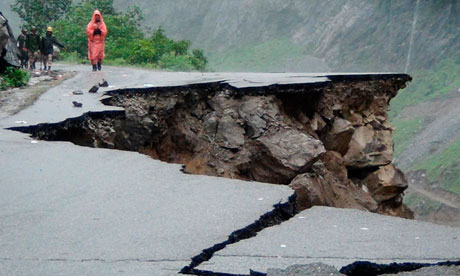 A damaged road near Govindghat town in Uttrakhand, India, after heavy monsoon rain caused landslides. Photograph: AFP/Getty Images
He said the official death toll in Uttrakhand state was 104 but added: "We don't know yet what happened to hundreds of people living there." An additional 17 people died in collapsed homes in neighbouring Uttar Pradesh, said RL Vishwakarma, a state police officer.
Uttrakhand's chief minister, Vijay Bahuguna, told the New Delhi Television news channel that hundreds of people had lost their lives, but the exact number would be known only after a survey.
The flooding washed away roads and nearly two dozen bridges, demolished 365 houses and partially damaged 275 others in Uttrakhand, the state government said.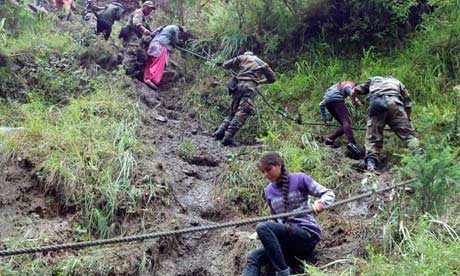 An Indian army rescue operation in Uttrakhand. Photograph: Indian army/EPA
Hundreds of distressed people looking for relatives flocked to Dehradun, the state capital, where flood survivors were taken by plane and helicopter. As those rescued left the aircraft, those searching for missing people showed them pictures of their loved ones in hopes that someone had seen them.
The lucky ones spoke to their stranded relatives on the phone on Wednesday and were waiting for them to be rescued.
The prime minister, Manmohan Singh, who made an aerial survey of the region on Wednesday, said the death toll exceeded 100. "It is feared that the loss of life could be much higher," he said.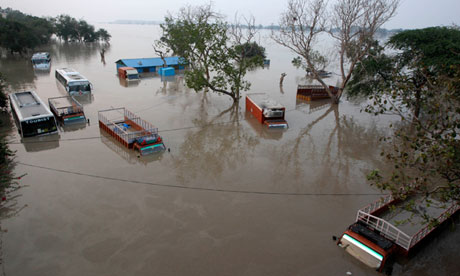 Buses and trucks are submerged in the rising waters of the Yamuna river in New Delhi. Photograph: Tsering Topgyal/AP
The state chief minister, Vihay Bahuguna, said the Kedarnath temple – one of the holiest Hindu temples dedicated to Lord Shiva, in the Garhwal Himalayan range – had escaped major damage, but up to four metres (10ft) of debris covered the area around it.
The latest rains have affected several states and the capital, New Delhi, where nearly 2,000 people were evacuated to government-run camps on higher ground. Authorities there said the Yamuna river was expected to start receding on Thursday afternoon.
The annual monsoon rains sustain India's agriculture but also cause flooding that routinely claims lives and damages property.