Natural Disasters
April 03, 2014
Mount St. Helens was tiny compared to the most dangerous category of volcano – the super volcano. The Yellowstone super volcano is located in the Yellowstone National Park of Wyoming. Try to imagine a volcanic eruption 10,000 times stronger than Mount St. Helens – an eruption that would threaten our very survival.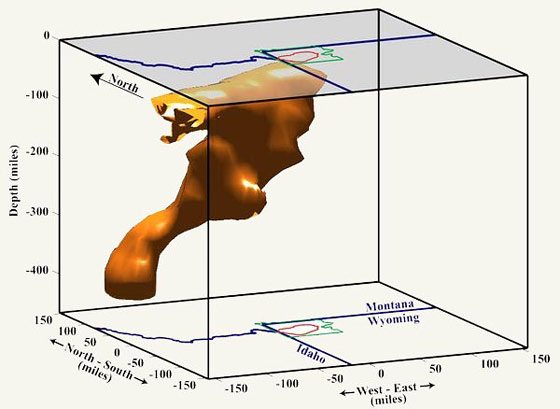 April 01, 2014
A powerful magnitude-8.0 earthquake struck in off Chile's northern coast Tuesday night, and authorities ordered an evacuation of coastal areas in case of a tsunami. There were no immediate reports of injuries or damage.
The U.S. Geological Survey said the quake struck 61 miles (99 kilometers) northwest of the city of Iquique at 8:46 p.m., shaking a region that has been rocked by numerous quakes over the past two weeks.
The latest tremor also shook buildings in parts of the nearby nations of Bolivia and Peru. Waves measuring almost 2 meters (6 1/2 feet) already were striking cities on the northern coast.
April 01, 2014
A tsunami warning has issued an expanded regional tsunami warning for Chile, Peru and Ecuador after a major magnitude 8.0 earthquake stuck off the coast of Chile.
A tsunami watch is also in effect for Colombia, Panama and Costa Rica.
The quake hit near the mining area of Iquique, the U.S. Geological Survey said.
It says the quake was very shallow, only 10 km below the seabed, which would have made it feel stronger. It was centred 86 km northwest of Iquique.
More to follow.
April 01, 2014
March 31, 2014
Experts say a bigger earthquake along the lesser-known fault that gave Southern California a moderate shake could do more damage to the region than the long-dreaded "Big One" from the more famous San Andreas Fault.
The Puente Hills thrust fault, which brought Friday night's magnitude-5.1 quake centered in La Habra and well over 100 aftershocks by Sunday, stretches from northern Orange County under downtown Los Angeles into Hollywood - a heavily populated swath of the Los Angeles area.
A magnitude-7.5 earthquake along that fault could prove more catastrophic than one along the San Andreas, which runs along the outskirts of metropolitan Southern California, seismologists said.
March 29, 2014
On March 17, a mild earthquake rattled countless Los Angeles-area residents awake shortly before their alarms went off at 6:30 a.m. The Monday morning temblor was the first notable L.A.-area quake in years.
A lengthy vacation from earthquakes certainly sounds nice. But John Dvorak, a geophysicist who now works at a astronomical observatory in Hawaii, warns that a quake break can just be the calm before the earthquake storm.
He makes his case that the Golden State is in for trouble in his readable and aptly named new book "Earthquake Storms: The Fascinating History and Volatile Future of the San Andreas Fault." But it's not just Californians who should pay attention to his exploration of earthquake science, the unfolding mysteries of geology, and the gaps in our seismic knowledge. As he notes in an interview, plenty of other parts of the country are vulnerable to earthquakes, including the Northwest, the Midwest, the South and – yes – even the Big Apple.
February 27, 2014
I have been been trying to come to grips with this because of the weird weather and most of all, the strange earthquake activity in places that don't normally experience it. One of our dedicated supporters shared this video with us and we felt it was definitely worth sharing with everyone.

While this video is a compilation of others, they all carry the same theme; Yellowstone. We are not trying to create panic or play into some conspiracy theory, we want people to be alert and prepared. Is the USGS hiding something? Does the government know about it and they are making plans? We actually spoke with an employee at Yellowstone National Park via Twitter and they dismissed everything as "faulty" equipment. But only a few weeks later did the southeastern portion of the United States experience an earthquake. Coincidence?

You watch these videos and you decide for yourself. Hopefully it will still be on here before it is removed by the powers that be.
January 07, 2014
More flooding is expected across the country today and tomorrow as the west coast counted its losses following the arrival of "Winter Storm Hercules", the system which has left behind a record-breaking deep freeze in the US.
Waves have been recorded as high as 27ft at Land's End, and reports on surfing forecast websites suggested scores of professional "big wave chasers" had followed Hercules' movements across the Atlantic.
Last night a flood siren warning of extreme danger to people and property was sounded in Dorset, as gales and tidal surges battered the coast.
January 06, 2014
If you think we're living in an unstable world, just listen to this: only one percent of our Earth is solid rock. Most of the other 99 percent is an oozing, mass, churning beneath our feet like road tar at temperatures between 2,000 and 10,000 degrees. The Earth's crust is only 20 miles thick. When that cracks, one of the greatest forces in nature erupts. There are 1,500 active volcanoes. And, tonight, we want to tell you about three; one that caused the most recent mass disruption, another that's the biggest threat to a major city and a third, in the United States that could wreak havoc all around the world. [LINK]
January 06, 2014
Huge volcanic blasts occur less frequently than scientists would expect, and now volcanologists think they can explain why: super-eruptions and smaller eruptions are triggered by fundamentally different processes.

Small volcanoes, such as Italy's Stromboli, erupt when molten rock rises from deep within Earth and then stalls in an underground chamber until enough pressure builds to blast it out to the surface. But the magma chambers of giant volcanoes—such as the one that erupted 2 million years ago beneath what is now Yellowstone National Park in the western U.S.—are too large for pressure from magma squirts to cause an eruption.

Instead, the molten rock accumulates until its sheer buoyancy creates a different kind of stress, one that cracks open the top of the chamber and starts an eruption, researchers report.
January 06, 2014
The eruption of a "supervolcano" hundreds of times more powerful than conventional volcanoes – with the potential to wipe out civilisation as we know it – is more likely than previously thought, a study has found.
An analysis of the molten rock within the dormant supervolcano beneath Yellowstone National Park in the United States has revealed that an eruption is possible without any external trigger, scientists said.
Scientists previously believed many supervolcanic eruptions needed earthquakes to break open the Earth's crust so magma could escape. But new research suggests that this can happen as a result of the build-up of pressure.
Supervolcanoes represent the second most globally cataclysmic event – next to an asteroid strike – and they have been responsible in the past for mass extinctions, long-term changes to the climate and shorter-term "volcanic winters" caused by volcanic ash cutting out the sunlight.
December 14, 2013
It's the awe-inspiring pride of the United States – and it harbors a deadly power that could kill us all.
Yellowstone National Park is pristine wilderness, full of scenic landscape and iconic hot-pools and geysers that attract tens of thousands of visitors every year.
But it's what lies beneath that has scientists scurrying.
We've long known that Yellowstone is merely the skin on top of a supervolcano – a giant pool of magma sitting just under the Earth's surface. Exactly how giant has been the subject of much speculation... Until now...
December 12, 2013
A leading earthquake expert has issued a dire warning to Californians about the expected impact of a major disruption to the San Andreas fault line. The title of Dr. Lucy Jones' lecture this week to the American Geophysical Union in San Francisco was titled "Imagine America without Los Angeles."

As KCAL9′s Dave Bryan reports, Jones, a Science Advisor for Risk Reduction at the U.S. Geological Survey, says when the "Big One" hits Southern California, the damage could be much greater, and could last much longer, than most of us ever imagined.

"Loss of shelter, loss of schools, loss of jobs and emotional hardship. We are risking the ends of our cities," she said during the presentation. According to a USGS study called the "Shakeout Report," when a high-magnitude earthquake rocks the San Andreas fault, the damage will go far beyond the collapsed buildings and freeways seen in the 1994 Northridge earthquake.
November 21, 2013

A new island has appeared in the Pacific. A submarine eruption just off Nishino-Shima Island Japan has erupted for the first time in 40 years. The Japanese Navy noticed the explosions as boiling lava met sea water giving rise to plumes of steam and ash.

Almost 7,000 miles away in Mexico, the Colima volcano blew its top after a period of relative calm. A steam and ash cloud rose two miles into the sky and the grumbling of the mountain could be heard in towns a few miles away. In Guatemala the 'Fire Mountain' belched out lava and sent up a moderate ash cloud causing an ash fall over nearby towns. The explosions and shock waves occurring in the volcano can be felt by residents over 6 miles away. Doors and windows are reported to be rattling, but there has been no damage so far.
November 19, 2013
A slew of tornadoes slammed the state of Illinois and surrounding areas yesterday (Nov. 17), killing six people and damaging or destroying thousands of homes, according to news reports. Eighty-one tornado reports were submitted to the National Weather Service (NWS) yesterday, most of them in the Land of Lincoln, though more than one report could be for the same tornado.
The devastation was significant enough that Gov. Pat Quinn declared seven counties state disaster areas, including Tazewell County, where a twister left parts of the town of Washington in ruins. One of the tornadoes in this area was preliminarily declared an EF-4, the second strongest type of tornado, said Illinois state climatologist Jim Angel. These twisters pack winds between 166 to 200 mph (267 to 322 km/h) and are strong enough to destroy sturdy houses and hurl cars. [LIVESCIENCE]
November 12, 2013
Super Typhoon Haiyan ravaged the central Philippines on Friday (Nov. 8), affecting millions and displacing hundreds of thousands.

The tropical cyclone (the blanket term for hurricanes and typhoons) packed sustained winds of up 190 mph (305 km/h) in the hours before it made landfall, according to some accounts. It will likely go down as one of the five strongest storms in the last 50 years, even though estimates of the storm's strength vary, said Brian McNoldy, a tropical storm expert at the University of Miami. Estimates vary because there were no airplanes in the area to drop recording instruments into the storm (the typical way of making such measurements). Jeff Weber, a researcher at the University Corporation for Atmospheric Research in Boulder, Colo., put Haiyan in the top three strongest storms, as measured by wind speed at landfall. Some compared the storm's devastation to the mayhem caused by the 2004 Indian Ocean tsunami, which resulted from a magnitude-9.1 earthquake that struck west of the island of Sumatra on Dec. 26 of that year.
November 09, 2013
In the wake of once-Super Typhoon Haiyan (local name Yolanda), the death toll is estimated to rise to 1,200 across the Philippines. "We estimate 1,000 people were killed in Tacloban and 200 in Samar province," Gwendolyn Pang, secretary general of the Philippine Red Cross, said in a report by CNN.
Tacloban was "ground-zero" for Haiyan's devastation, stated AccuWeather.com Meteorologist Eric Wanenchak. There is more bad news for the Philippines as a tropical disturbance, perhaps becoming a tropical storm, will reach the nation during the middle of next week. [LINK]
November 07, 2013
Debris from the deadly tsunami that struck Japan in 2011 is drifting across the Pacific Ocean toward North America, and will likely continue to wash onto North American shores over the next few years, according to the U.S. National Oceanic and Atmospheric Administration (NOAA).
"A significant amount of debris has already arrived on U.S. and Canadian shores, and it will likely continue arriving in the same scattered way over the next several years," NOAA officials said in a statement. "As we get further into the fall and winter storm season, NOAA and partners are expecting to see more debris coming ashore in North America, including tsunami debris mixed in with the 'normal' marine debris that we see every year." -- On March 11, 2011, a 9.0-magnitude earthquake struck off the east coast of Japan, triggering a devastating tsunami that killed more than 15,000 people and caused widespread destruction.
November 07, 2013
One of the most powerful typhoons ever recorded slammed into the Philippines early Friday, and one weather expert warned, "There will be catastrophic damage." -- The U.S. Navy's Joint Typhoon Warning Center shortly before Typhoon Haiyan's landfall said its maximum sustained winds were 314 kilometers per hour (195 mph), with gusts up to 379 kilometers per hour (235 mph).
"195-mile-per-hour winds, there aren't too many buildings constructed that can withstand that kind of wind," said Jeff Masters, a former hurricane meteorologist who is meteorology director at the private firm Weather Underground.
November 03, 2013
Yellowstone National park is the largest super-volcano on the continent and possibly the world. It's an underground boiling cauldron of lava, but just how likely is it to erupt or do scientists have other concerns?

"It's been 640,000 since the last eruption," says Jake Lowenstern, a scientist with the Yellowstone Volcano Observatory.

The lava pool beneath Yellowstone National Park is more than twice as big as scientists previously believed, that's according to new research from the Geological Society of America. Scientists from the University of Utah say the lake of molten lava is nearly 50 miles long and 12 miles wide. Jake Lowenstern, a scientist with the Yellowstone Volcano Observatory, says even a small eruption could cause a minor disaster. [LINK]
November 03, 2013
In 2010, an ash cloud from the Eyjafjallajökull volcano in Iceland shut down airspace over Europe for six days. Professor David Pyle, a volcanologist at Oxford University, explains that despite dramatic improvements in our ability to monitor active volcanoes with high-resolution satellite imagery and sensors, we're still a long way from predicting when and where the next eruption will occur
October 29, 2013
By the time Hurricane Sandy hit the northeast coast of the United States one year ago, it had weakened in wind speed from a Category 3 to a Category 1 storm. But people living in the storm's path quickly learned that this lower rating said little about the storm's destructive capacity.

By landfall, wind speeds had fallen below 94 mph (153 km/h) — the cutoff for Category 1 hurricanes — but the storm surge (the water that a storm pushes in front of itself above predicted tide levels) was greater than any other surge recorded in New York City's history, reaching up to 14 feet (4.3 meters) in lower Manhattan. Many of the 150 deaths associated with Sandy have been attributed to flooding from this surge along the New York and New Jersey coastlines. This outcome was not unique to Hurricane Sandy: Flooding from storm surge has caused more deaths during hurricanes than any other hurricane threats — such as winds and freshwater flooding from rainfall — combined since 1900, according to the National Hurricane Center (NHC). And yet the NHC's official hurricane category system — meant to efficiently warn residents of a storm's destructive capacity — does not convey the threat of flooding.
October 29, 2013
Some people and places may never be the same since Hurricane Sandy hit the northern Atlantic Coast on Oct. 29, 2012. The lingering effects include lives lost and irreplaceable mementos. Barrier islands were changed forever. But the vulnerabilities revealed by Superstorm Sandy could also help make the East Coast better prepared for the next big hurricane. Here are five ways Hurricane Sandy totally changed the East Coast:
---
October 29, 2013
The water just kept flowing. It streamed through the streets of lower Manhattan, pouring into subway entrances, cascading into ventilation grates and pooling inside tunnels.

When Superstorm Sandy hit New York a year ago, it caused a massive, 14-foot storm surge, the likes of which the city had never seen. Nine out of the 14 subway tunnels beneath rivers around the city flooded, and the subway was shut down for days. But the Metropolitan Transit Authority (MTA) took precautions to head off the worst impacts, experts say. Before the storm hit, the MTA moved its trains out of flood-prone areas and took out the electric signals in the tunnels. The tunnels flooded. Afterward, subway workers pumped the water out and replaced the electric signals. Within a week, 80 percent of subway service had been restored, newspapers reported.
October 29, 2013
Authorities continue to clear away debris and fallen trees while engineers work to restore power to hundreds of thousands of homes and rail services slowly return to normal. A 17-year-old girl was among four people killed as hurricane-force winds battered England and Wales, leaving a trail of destruction. Dubbed St Jude after the patron of lost causes, the storm caused transport disruption on road, rail, air and sea, and power cuts for hundreds of thousands of homes.
October 25, 2013
An earthquake of magnitude 7.3 struck early Saturday off Japan's east coast, the U.S. Geological Survey said, and Japan's emergency agencies issued a tsunami advisory for the region that includes the crippled Fukushima nuclear site. Tsunamis of up to 15 inches were reported at four areas along the coast, but the advisory was lifted less than two hours after the quake. There were no immediate reports of damage on land. Japanese television images of harbors showed calm waters. The quake hit at 2:10 a.m. Tokyo time about 170 miles off Fukushima, and it was felt in Tokyo, some 300 miles away.
<< Start
< Prev
1
2
3
4
5
6
7
8
9
10
Next >
End >>
Results 1 - 51 of 1088